OFFICES & WORKING PLACES
Abundant land and office space
The city of Córdoba and its metropolitan area has abundant land and office space for companies who want to relocate or expand there.
Both in the city centre and in the Science and Technology Park there is a widespread availability of offices, which are complemented by a network of business incubators and shared work spaces, such as the one managed by the CECO.
OFFICES & WORKING PLACES
Rabanales 21 – Parque Científico Tecnológico de Córdoba
Rabanales 21 is the Technological Science Park of Córdoba. Its objective is to promote business development in Córdoba and foster collaboration, innovation and knowledge transfer among companies as an essential strategy to gain competitiveness, both nationally and internationally. It is a unique location for companies seeking to grow in an environment that favours the creation of synergies and new opportunities.
Rabanales 21 offers an exclusive work environment, with large green areas and common use areas for companies in a pleasant and comfortable environment.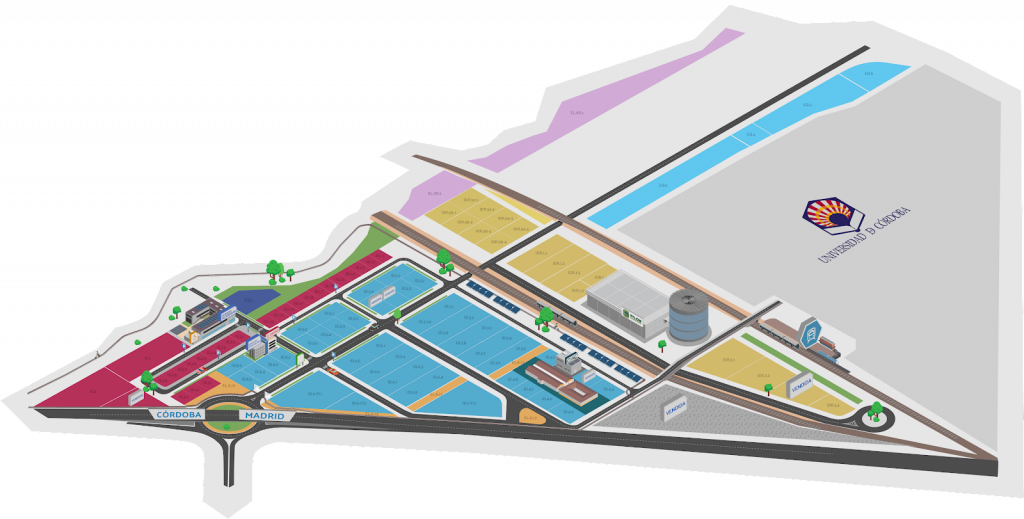 OFFICES & WORKING PLACES
Offices & Co-working spaces
Cordoba boasts a wide availability of offices in the city centre.
The Business Confederation of Córdoba offers new companies, professionals, freelancers, SMEs and start-ups the opportunity to develop their activity in the largest space available for business activity in the province. Its CECOworking space offers fully equipped meeting rooms, coworking spaces and individual offices in the city centre.
The Andalucía Open Future initiative, a project of the Junta de Andalucía and Telefónica, also has a project for the acceleration of technology-based startups: the –El Patio accelerator – based in Córdoba.
Other options include LaZona, in the city centre, or the UCO coworking space on the Rabanales Campus.
OFFICES & WORKING PLACES
IMDEEC Business Incubator Network
Business incubators refer to the  physical spaces -offices and warehouses – offered by the Instituto Municipal de Desarrollo Económico y Empleo de Córdoba –IMDEEC– to companies that are newly created or in the expansion phase, with subsidized costs. In addition to the space, personalized advisory services and access to common services are offered -function and meeting rooms, parking, cleaning, etc.-. 
Currently, there are two incubators: Baobab, in the Tecnocórdoba industrial estate, and Las Lonjas, in Avda. De la Fuensanta.en la Avda. de la Fuensanta.
OFFICES & WORKING PLACES
Multifunctional spaces
Córdoba offers different options for holding professional events and events. The Palacio de Congresos de Cordoba (Conference Centre), located in the heart of the historic centre of the city and opposite the Mosque-Cathedral, offers a unique setting for conferences, conventions and professional meetings. It currently has four rooms of different capacities (20-80 people), including a modern auditorium with capacity for more than 750 people, and two open spaces.
In the near future, Córdoba will have a Center for Exhibitions, Fairs and Conventions. Located at the entrance to the Parque Joyero, it will have a modular configuration that will give the building a great capacity to adapt to different types of events.