INVEST IN CORDOBA
Discover key aspects to invest in Cordoba
Establishing a company in Córdoba is simple. The procedure is similar to the rest of Spain.
The existing corporate forms are in line with those of other OECD countries. There is a wide range of options for investors who wish to invest in Córdoba or from Córdoba..
The most common corporate forms provided for by Spanish commercial law are the public limited company (S.A.) and the limited liability company (S.L.). The incorporation procedures are very similar in both cases: by means of the ordinary procedure, these are usually carried out within a period of between 2 and 6 weeks, although there is a draft law to facilitate the incorporation and stimulate the further development of a company.
Every year ICEX-Invest in Spain, in colaboration  with Garrigues, launches its Business Guide to Spain, the go-to document for any investor who wants to get to know the Spanish regulatory framework or who wants to delve into the most relevant aspects related to establishment and development of their activity in Spain: tax system, investment aid and incentives, labour and social security legislation, industrial and intellectual property, etc.
In any case, the Investor Support Office of the Business Confederation of Córdoba will be happy to analyze your investment project and help you in everything that is in our powe
INVEST IN CORDOOBA
Choosing a location
The Investor Support Office has specialized technicians who know first-hand the availability and characteristics of the land and office space in Córdoba. We can help you select the best location for your business.
INVEST IN CORDOOBA
Labour market
The Cordoba labour market offers trained, competitive and flexible workers. At the Investor Support Office we will be happy to answer any questions you may have regarding the applicable labour regulations and how and where to find professionals you need for your project in the city. In the
following link
you can download additional information on labour and social security legislation, prepared by ICEX-Invest in Spain
INVEST IN CORDOBA
Investment incentives
Spanish public administrations offer aid and incentives to promote local investment and job creation, increase competitiveness and levels of digitization and incorporation of technology, promote research and development, support internationalization and favour economic development, especially in sectors considered strategic. Andalusia is one of the European regions in which the intensity of these aids can be higher.
Cordoba´s City Council offers tax incentives to facilitate the establishment of companies in the city.
The Investor Support Office of the city of Córdoba offers personalized advice on the incentives available for your project in the city.
If you want to get a better understanding of the aid that is usually available, both the Business Guide to Spain and the Invest in Spain aid and incentives search engine may be useful.
INVEST IN CORDOOBA
Labour costs
Córdoba offers an attractive business environment, with very competitive labour and operating costs in a low-risk environment within the Euro Zone.
Labour costs in Spain, both annual averages and in gross terms per hour, are 30% lower than the average for the Euro Zone and 40% lower than in France or Germany.
Córdoba offers one of the most competitive cost environments in Western Europe.
Average labor costs, including salaries, tax burden and operating costs assumed by the companies are significantly lower in Córdoba.
Córdoba also stands out for its reasonable operating costs in areas such as energy, real estate and telecommunications, as well as for the availability of land and industrial property at affordable prices.
INE 2ºT 2021. Monthly labour cost per worker
Labour costs in Spain and Andalusia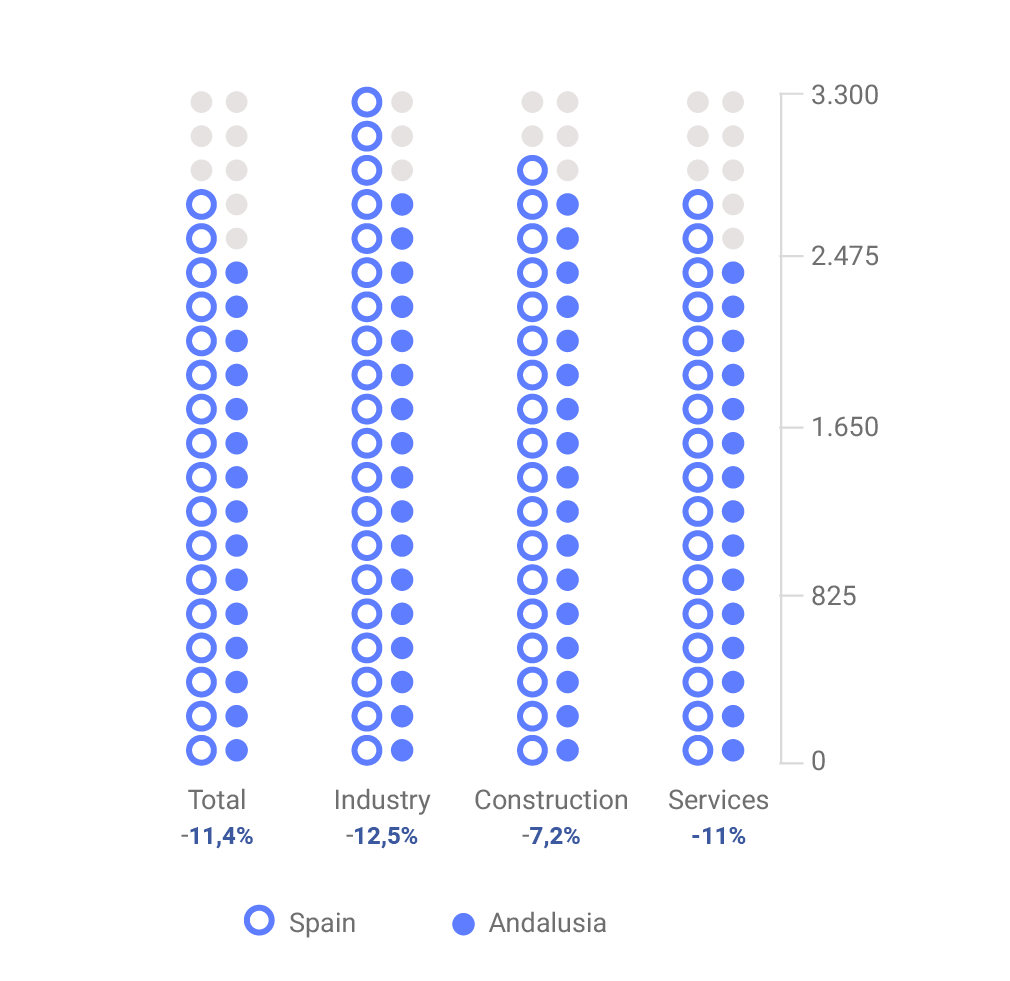 REQUESTS
Do you need help?
Write to us!